The entrance at Tuscan Ridge

Our local management company is a family run business operated by Kylie Thorne of Homes of America, and is at your disposal for services and advice during office hours.
There is also an out of hours number incase of emergency.
Tuscan Ridge is a small development, Situated to the west of highway 27. Local diners such as Denny's and Perkins as well as Beef-O-Brady's sports bar and a Walgreens chemist, Local shopping facilities such as Posner Park (Shopping Mall) with a JC Penny (Clothing), Ross (Giftware) & Best Buy (Electrical) are also close by.
Championship golf courses such as reunion and champions gate are within easy reach of our home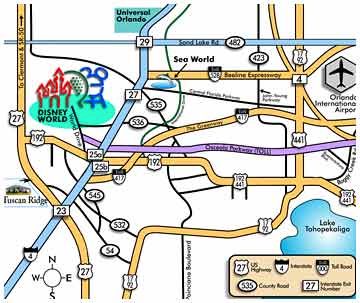 Disney World ….. 10 Minutes
Universal Studios …… 20 Minutes
Sea World …… 15 Minutes
Busch Gardens …… 60 Minutes
Kennedy Space Centre …… 50 Minutes
Championship Gate Golf …… 5 Minutes
Daytona Beach …… 60 Minutes
St.Petersburg/Clearwater …… 75 Minutes
Coco Beach …… 75 Minutes
Naples …… 150 Minutes
Miami …… 180 Minutes
Flights, Car Hire, Airport Transfer available on request.
Other Useful Sites & Numbers